Since its inception in 2002, The Vita Children's Foundation has held several major fundraising events.  With the help of the Foundation's large family of friends and supporters, over $350,000 have been raised to date to benefit children and adolescents with cancer. The proceeds from our fund-raising activities have been distributed to the following areas thus far:

A $25,000 donation was made to the AYAOP at the Jewish General Hospital's Segal Cancer Centre

On May 14, 2009, the Vita Children's Foundation presented a $25,000 cheque to the Adolescent and Young Adult Oncology Program at the Jewish General Hospital's Segal Cancer Centre.  The donation served in the creation of the AYAOP database and maintenance of this database project.  As the program population increases and serves a greater number of young adults with many different types of cancers, the AYAOP team felt that it was important to have proper documentation and statistical information of its patients. For more information on the AYA Oncology Program, please visit their website at www.mcgill.ca/aya-oncology/
A $5,000 cheque to the Dr. Clown Program

On September 8, 2008, The Vita Children's Foundation presented a $5,000 cheque to the Dr. Clown program.  Dr. Clown is a Montreal-based charitable organization that offers therapeutic clowning services to young cancer patients.  Dr. Clown brightens the lives of hospitalized patients with its regular and professional programs of therapeutic clowning, which bring artists and patients together in an atmosphere of imagination and fun.  For more information on the Dr. Clown program, please visit their website at www.drclown.ca.

The Adolescent & Young Adult Oncology Program at the Jewish General Hospital's Segal Cancer Centre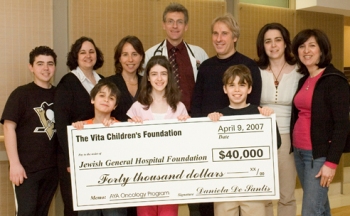 On April 9, 2007, The Vita Children's Foundation was thrilled to contribute to the AYA Oncology Program a sum of $40,000 raised through various fundraising events. The Vita Children's Foundation is delighted to join the AYAOP in its noble ventures towards a better future for young cancer patients.

Haematology/Oncology In-Patient Ward of the Montreal Children's Hospital

Upon its creation in 2002, the main objective of The Vita Children's Foundation was to raise much-needed funds for the $1.8-million reconstruction project of the Haematology/Oncology In-Patient ward of the Montreal Children's Hospital, which was officially inaugurated on December 19, 2005.

The ward serves critically ill children suffering from all forms of cancer.  These young patients have very special and specific needs and often experience prolonged hospital stays that can be both difficult and very stressful for the entire family.
The aim of the renovation project was to create a more positive healing environment by providing state-of-the art filtration and air temperature control, by increasing the number of private rooms and washrooms, and by making these patient rooms more comfortable. The improved design has also created a more efficient workspace for the staff caring for these patients.
New elements that were included in the rooms are HEPA filters, which are extremely important for patients whose immune systems are vulnerable to infection; built-in entertainment centres, complete with flat-screen TV, DVD player and video game console; computers and desks; and, specially designed chairs that convert into beds for parents.
Recognizing the importance of making The Children's cancer unit a first-rate pediatric oncology facility, we decided that we needed to do our part to make this very special project a reality.  Through the support of all our generous sponsors, donors and volunteers, The Vita Children's Foundation was able to contribute a total sum of $100,000 to this extremely important initiative.  We are also extremely proud and honoured that the Montreal Children's Hospital has dedicated a room on Ward 8D to our Foundation.
MUHC Adolescent and Young Adult (AYA) Oncology Programme

The MUHC Foundation presents a plaque to members of The Vita Children's Foundation in recognition of their fundraising efforts on behalf of the Adolescent and Young Adult Oncology Programme of the McGill University Health Centre